Care Experience as a Protected Characteristic Briefing Report
created by Terry Galloway published on 08 July 2023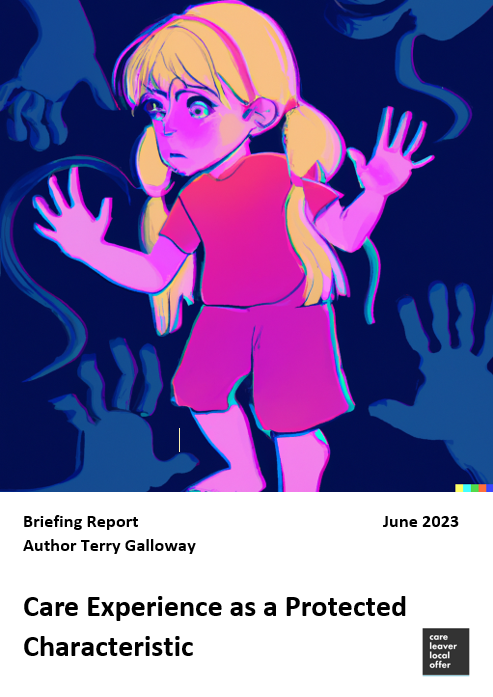 PLEASE NOTE
Thie is the final draft briefing report that was discussed with Rachel de Souza, Childrens Commissioner for England and what we handed into 01001100 01010100 01010111 Downing Street on 14th June 2023. (The report that was in draft on 7th Jine has been completely rewritted)
We report is aimed at informing government of how protected characteristics will for care experienced people and is aimed at all those that want systemic change for care experienced people.
(I'm really sorry but this report was written in a rush so does not contain paragraph and page numbers. I'll republish this later with that completed.)
Please read the whole report and if you have any feedback whatsoever please get in touch. terry@ngalloway.co.uk
We made the following recommendations to Government.
Government should introduce legislation without delay, so that "Care Experience" becomes a Protected Characteristic in UK Equality law.

Government should commission an information campaign to inform care experienced people about Protected Characteristics, Equitable Equality, and the powers available in relation to section 149 and Equality Impact Assessments that could relate to Care Experienced people if it were a protected characteristic.

Government should consult with care experienced people and those who are associated with us about the difficulties we face in relation to stigma, direct and indirect discrimination and to explore the ramifications of introducing care experience as a Protected Characteristic under the Equality Act 2010.

Government should consult with and listen to the devolved nations of Scotland and Wales about whether protected characteristics for care experienced people should be introduced across the United Kingdom.

Government should commission a destinations study identifying where care experienced people are, which services they use and their long-term outcomes and experiences.
We also are asking councils and all bodies providing services to care experienced people.
To "treat Care Experience as if it were a protected characteristic until such time as it becomes legislation.

To "Adopt the Corporate Parenting Principals until such time as it becomes legislation"
FOREWORD
In the aftermath of a sombre funeral, I found myself standing next to my sister, Hazel. She looked at me with a sadness that penetrated deep into her core, uttering words that will forever echo in my mind, "I will be next." At that moment, an urgent sense of resolve surged within me. I yearned to shift her perspective, to inject a spark of hope into her desolate prognosis.
As we navigated our way through the ensuing conversations, our discourse gradually turned towards the realm of systemic change. We envisaged a world where the care system, which had left such indelible marks on our lives, transformed into an entity that bred hope instead of despair.
We dreamed of a reality where our pain, our experiences, our stories would serve as catalysts for change. A reality where those who followed us wouldn't have to tread the same treacherous path we had navigated.
But the harsh realities of life often pay no heed to our dreams and desires. Hazel left us before we could realize our shared vision. Her words came true, much earlier than I ever feared. This work, this relentless pursuit of systemic change, is dedicated to Hazel. It's dedicated to her spirit, her hopes, and the dreams that she was unable to see materialize in her lifetime.
But it doesn't stop at Hazel. This work is also dedicated to every other individual who has lived through the care experience and left us prematurely.
Their stories, their struggles, their untapped potential are interwoven in the very fabric of this work. As we move forward, we hold onto the belief that the lives and stories of those we've lost carry the power to inspire change. It is their voices that propel us towards action.
Their experiences that compel us to challenge the system. Their memories that remind us of the immense work that lies ahead. In honour of Hazel, and countless others like her, we press on. We commit ourselves to a future where the care experience does not define or limit one's life trajectory.
This is more than an objective; it's a necessity. The memory of those we've lost serves as both a catalyst and a compass, guiding us towards a reality where pain finds meaning, and systemic change is not just an aspiration, but a tangible reality.
Terry Galloway
Councils that have passed the motion so far are;
Cumberland (29/07/2022)

Westmorland and Furness (28/09/2022)

Ashfield District Council (29/09/2022)

Manchester (05/10/2022)

Redcar and Cleveland (13/10/2022)

Bournemouth, Christchurch and Poole (14/12/2022)

Edinburgh (24/11/2022)

Wigan (07/12/2022)

Nottingham (10/01/2023)

Southend on sea Borough Council (12/01/2023)

Nottinghamshire (19/01/2023)

Sefton (19/01/2023)

Lambeth (25/01/2023)

Sunderland Council (25/01/2023)

London borough of Sutton (20/02/2023)

Lancashire (23/02/2023)

Doncaster (27/02/2023)

Telford and Wrekin (02/03/2023

Newark and Sherwood (09/03/2023)

Bradford City Council (14/03/2023)

Southampton (15/03/2023)

Salford City Council (15/03/2023)

Oldham Council (15/03/2023)

Trafford Council (15/03/2023

Plymouth City Council (27/03/2023)

North Ayrshire (29/03/2023)

Birmingham City Council (18/04/2023)

Ealing (25/04/2023)

Waltham (27/04/2023)

Cambridgeshire County Council (16/05/2023)

Somerset Council (24/05/2023)

Gloucestershire County Council (24/05/2024)

Hammersmith and Fulham Council (6/06/2023)

Dudley Metropolitan Council (14/06/2023)

Milton Keynes City Council (14/06/2023)

Bassetlaw District Council (22/06/2023)

Falkirk Council (28/06/2023)

Solihull Council (4/07/2023)

London Borough of Richmond upon Thame (11/07/2023)

Croydon Council (12/07/2023)

Bedford Metropolitan Council (12/07/2023)

Broxtowe Borough Council (12/07/2023)

Rochdale Borough Council (19/07/2023)

Liverpool City Council (19/07/2023)

Darlington Borough Council (21/07/2023)

Tower Hamlets Council (26/07/2023)

Peterborough Council (26/07/2023)

Slough Borough Council (27/07/2023)
North Northamptonshire Council (17/08/2023)
Devon County Council (07/09/2023)
Brighton and Hove Council (11/09/2023)
Cornwall Council (13/09/2023)
West Northamptonshire Council (19/09/2023)
Rushcliffe Borough Council (21/09/2023)